TROSSACHS AREA SERVICES IS NOW SELLING FUEL + GOODS !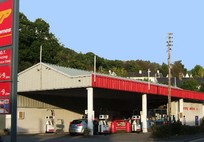 Fuel is now on sale at realistic prices in Trossachs Area Services, a community business. Since re-opening we have cleaned or relined the fuel tanks and replaced all underground piping to ensure that fuel dispensed is of the highest quality.

As a start-up business we have to reduce risk as much as possible so the site will be developed gradually. The shop will not be fully operational until refurbished. Our tenants Trossachs Motor Engineers now provide garage workshop services.


Opening hours:
Weekdays: 7am to 7pm
Saturday: 8am to 7pm
Sunday: 8.30 to 7pm


Latest updates:

Now selling bread, milk, newspapers, fresh bakery, plants....

Large range of solid fuel, including Calor gas

All our fuel tanks have been relined or cleaned. See photos

here

Rerbishments are taking place gradually as funding and finances permit

Current Tenders:

General works and roofing tenders will be issued in June 2013. Contact us for the contract specification and to make a bid.
Join as a member or make a loan or donation, see details on form here